Why choose a Vacation Home or Cabin Rental?
Value: One or two vacation home or cabin rentals cost less than 2-10 hotel rooms.
Privacy: Vacation home or cabin rentals offer you space and freedom so that you can truly enjoy your vacation.
Family: Vacation home or cabin rentals accommodate families and friends much better than a resort, and the cost per person is often far less.
Experience: You will experience living in the Colorado Rocky Mountains in a vacation home or cabin.
Adventure: You can snowshoe, cross country ski, fish or hike all right out the door.
Memories: Making memories last for a lifetime…..Priceless!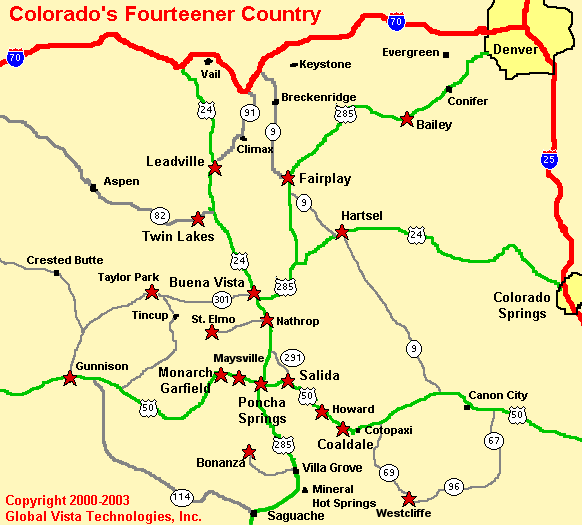 Click Map To Zoom
Press Back To Return
Located right off U.S. 50, Monarch Ski and Snowboard Area (this ski area is the best kept secret with its awesome mother nature snow and down home hospitality) is only 4 Miles away. The Arkansas River, considered by many the capitol of Colorado river rafting, is also nearby. No matter what the season, the area is full of outdoor recreation opportunities: skiing, snowmobiling and snowshoeing; rafting, hiking, 4-wheeling, biking, hunting, fishing, ghost-town exploring, and just plain relaxing.
For more information on our cabins, click on any of the pictures above. You can also visit our Rates and Policies page, check for vacancies on our Cabin Availability page, or send us an email by using our simple Inquiry Form. To learn more about the activities and recreation possibilities in the area, tour our internet neighborhood on FourteenerNet
---
Considering a stay
at Monarch Cabins?
Check for vacancies:
Cabin Availability
Updated with confirmed
reservations only!